Explore this Article
hide
The Best Basketball Socks – A Definitive Guide
Yes, the socks you wear, like all equipment make a difference on your game. Will the right socks help you become the best free throw shooter on your team, or be the first person in you class to dunk a basketball?
OF COURSE NOT
But playing the game with a pair of supportive, comfortable socks, can help your over all confidence on the court and we all know basketball and sports in general has a lot to do with confidence.  There is nothing worse than trying to concentrate on your game with a pair of socks nagging at you.
At the time of this writing, we are all stuck at home due to the COVID crisis a lot of online merchants have run out of inventory. If you can't find your preferred product on Amazon I recommend that if you find the basketball socks you are looking for in stock … BUY THEM!
Like many of you, I sometimes have to spend days or evern weeks trying to find the specific basketball shoes I am looking for.  There have been times when I was looking for shoes that help with my tracktion, other times shoes to help with my jumping.  I have very narrow feet so that would kind of compound the challenge.
Then I would finally find the perfect pair of basketball sneakers, and stupid me I would try to rock them in good looking but thin, cheap socks that had no place on the basketball court.  I was just young and dumb and didn't know any better.
It truly was  like I died and had gone to heaven when I got my first pair of  true performance basketball socks. I couldn't believe the difference they made in how my feet felt, my confidence, and my game.
In this article, I will share with you what I have learned about the best basketball socks on the market and why they are a must-have for every ambitious basketball player. Read on – you don't want to make the same mistake I did, do you?
List of the best basketball socks:
There are a lot of things to consider when looking for the perfect basketball socks. In the following paragraphs, I want to sum up the most important ones, keep in mind, I am a player, not a writer.   I originally did this review for a school project and when the team at bestbasketballshoes.co found out, they asked me to share it with you guys, so her it goes.
Material
Performance socks are usually made of MIXES of cotton, polyester, nylon, and elastane (spandex). Pure cotton is rarely seen in performance socks because cotton quickly absorbs sweat and doesn't dry very fast.  Pure cotton basketball socks become uncomfortable very quickly when playing.
Synthetic materials like nylon and polyester divert away moisture quickly and  will retain their shape much longer. Elastane usually makes up a very small percentage of the material (around 2-6%), but its incredible flexibility adds stretch and makes socks a lot more comfortable!
Thickness
Honestly, this  comes down to personal preference, but I like my basketball socks to be a little thicker than my normal  everyday socks.   My brother likes super thin basketball socks.  I have rather narrow feet, so socks made from thicker material help me improve the fit of my shoes.   (My brother has wide fatty feet)    This way, my feet slide much less inside the shoes, which not only helps to avoid blisters but also makes quick basketball moves much more comfortable and easier to do on the basketball court.
Of course, if you have very wide feet and you already have a hard time getting into your shoes you might want to look towards thinner socks like the Nike Grip Quick Crew. The Grip Quick is what my brother wears.
I guess the point is, when you find a pair of basketball socks that you like, and fits your feet and shoes well, stock up on them.  When its game day, you don't want to rely on whatever is clean and in your sock drawer.   I have a specials drawer, just for basketbal socks, and they are all the same, same brand, same sock.
Length
There was a time when basketball players wore long tube socks that went all the way up to the knees. These socks are completely out of fashion now and have been replaced by compression pants.
These days you have the choice between thee different styles:
Crew cut socks that go up to the middle of the shins
Mid cut socks that end just above the ankle
Low cut socks (also called "no-show" socks) which are almost invisible when you are wearing shoes
The picture below illustrates the different styles with three versions of the Nike Elite Versatility:
LOW
MID
CREW
Which kind of socks to pick is mostly a fashion decision, but some athletes like the added compression of crew cut socks. Another reason to choose crew cut socks is if you wear ankle braces and want to avoid unnecessary friction.  Some players were a variety of socks, others go with one stye.   For me personally I go with the crew socks, so it really comes down to the look you want to have when you are on the court.
Cushioning and Arch Support
More expensive performance socks like the Nike Elites bring you additional cushioning in the forefoot and around the heel. This makes them extremely comfortable and helps you to avoid blisters. I personally love the additional cushioning because it really helps to lock down my narrow feet inside the shoes and I feel much more
comfortable on the court.
Some performance socks come with compression bands in the midfoot area that provide additional arch support. This can be helpful if you suffer from arch pain or plantar fasciitis.  As basketball players we need to do everything we can to take care of our feet.
This picture I found shows the compression bands and the cushioning on the inside of modern performance basketball socks.  Basektball socks have come a long way since my dad use to play with all cotton tube socks.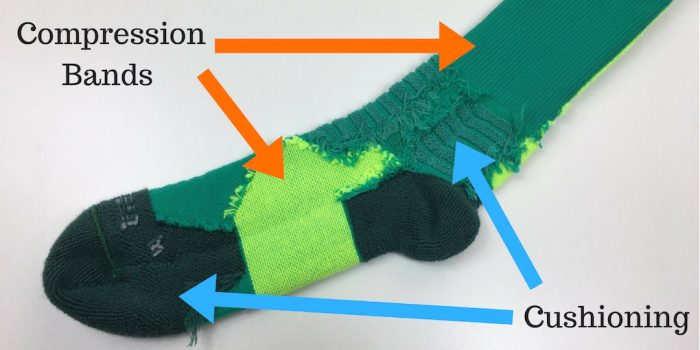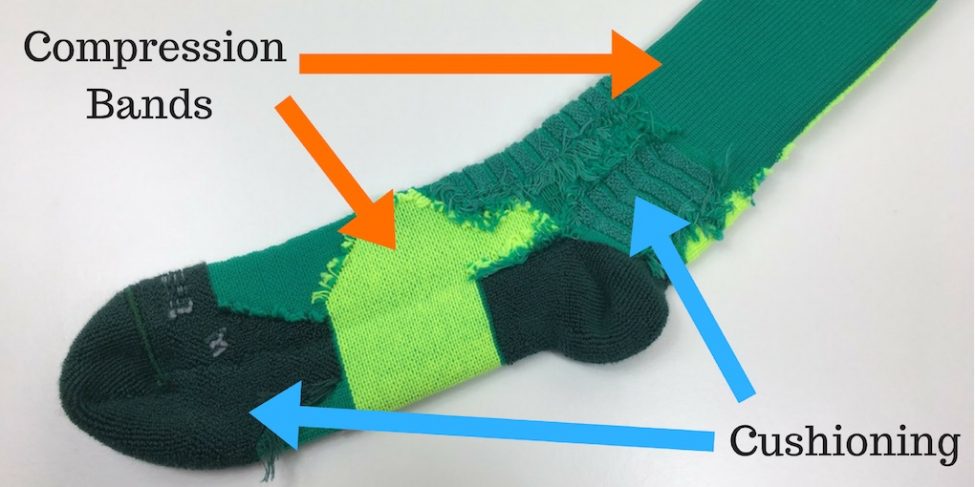 A CLOSER LOOK AT THE MORE POPULAR BASKETBALL SOCKS ON THE MARKET
Nike HYPER ELITE cushioned Crew Sock
The highest quality most expensive sock on the market for players where budget is
not an issue.
3 Levels of cushioning soften the impact right where you need it

Dri-Fit fabric pulls sweat away

Left/Right specific design

Machine washable
Click to Check Current Price
tight fit provides arch support and compression
HeatGear is designed to keep your feet cool
Check Current Price
the official NBA on-court performance socks starting with the 2017-2018 season
more flexible and easier to get on and off than the Nike Elite socks
Check Current Price
---
Final thoughts
If you are playing basketball for hours every day, high-performance basketball socks can really make a difference! They protect your feet from fatigue, help you avoid blisters and make playing basketball much more fun. I would recommend buying the original Nike Elitesocks if you are a gymn rat like me.
If you are not a fan of the regular crew cut, then check out the Elite Versatility line that works just as well on the court, but also comes in low-cut and mid-cut versions.